Why Is a Secure Online Form Builder Important?
With numerous free online form builder apps on the internet, you should choose something secure. Why? Because respondents provide their sensitive data here. It would be soundest to ensure that their information won't get compromised by unauthorized users.
Let's take a look at some standard form fields that businesses would often ask the user:
Name
Country
Email
Message
Contact number
If you were the user that filled up the form, would you want the information you have provided to spread? The answer would be no, correct? As such, it is companies' job to ensure that they use a secure online form builder.
Using an unsecured form builder can also pose many security vulnerabilities. It can compromise the information of the user and the company. As a result, your audience might lose their trust in your business because you did not value their privacy. A data breach can also happen, which costs a lot of money to recover from the incident.
Features of a Secure Form Builder
The best online form builder must prioritize data security. Even secure online forms free of charge are not exempt from this rule. They should also adhere to the same standards.
Below are the features you should look for in a form builder.
256-Bit SSL Encryption
Web forms might require users to input personal information. 256-Bit SSL Encryption is crucial to secure and encrypt any sensitive data. The 256-Bit SSL Encryption is also the industry standard since it can protect your data from any organization.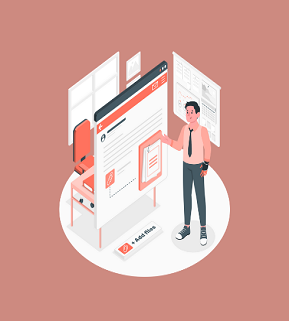 Captcha Protection for Secure Online Form Builder
Form builders should allow you to put CAPTCHA in your forms to prevent bots, spam, and DOS attacks. CAPTCHA makes it possible to identify humans from machines. As such, it is an effective way of placing security measures on your web forms.
Data Security in all subscription plans
Data security should be the top priority, even if it's a free online form builder. A form builder should have at least 256-Bit SSL Encryption and CAPTCHA that protect your web forms from hackers.
What Is Today's Most Secure Online Form Builder?
FormBot is one of the most secure online form builder tools today. First, they comply with strict security standards and prioritize data protection the most. They also use 256-Bit SSL Encryption, which is the industry standard for protecting any sensitive data.
FormBot also allows its users to put a CAPTCHA element in their forms. This feature increases the web form's security, protecting both the user and the company. What's more, FormBot prioritizes data security for all of their plans, including the starter package for free.
Build Attractive Forms with Formbot Today
Are you looking for an affordable and secure online form builder? FormBot's got your back! In FormBot, you can avail the starter plan and create forms for free today. For more information, contact us now.