4. Limit User Access to the Google Form
This step answers your question, "can a Google Form be password protected?" It involves setting and choosing a password for your form.
Click the series of dots next to the Required toggle at the bottom of Section 1, then choose "Response validation."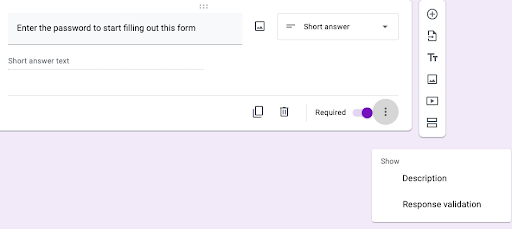 Choosing that option will open up four new fields.

From left to right, the first field should be "Text," followed by "Contains" in the second. The third field should include the password you have chosen for the form. The fourth field must show the message every time a user enters the wrong password.
Now that you have successfully set access restrictions to your form for authorized users, you can start setting up a Google Form and multiple passwords for several surveys, voting forms, signup sheets, quizzes, exit slips, and feedback forms.
But does the password setup work? Does it finally answer the question "can a Google Form be password protected" in the affirmative? It is time to test your form.